CHERRY MX 3.0S RGB Gaming Keyboard (Pink) MX Brown Switch G80-3874HXAEU-9
Description
The CHERRY MX BOARD 3.0 S is a high-performance gaming keyboard with a choice of illumination, colour and switch options. The stylish extruded aluminium housing integrates the genuine Cherry MX switches, designed for fast play with all the gaming features you need to win. Its intelligent, technical design completely without screws giving you a sleek, modern design. Gold Cross point precision switches for all keys are made in Germany. Choose from illumination options for different versions range from unlit to monochrome to RGB with colour routines in over 16 million colours.
Main features of this keyboard include:
Full n-key rollover that allow all keys to be read simultaneously.
Anti-ghosting – no input errors.
WIN key lockout for gaming.
Cherry button for instant access to software information and the Cherry website.
Securely plugged, detachable cable.
Four round rubber feet for extra stability.
Discover high-performance gaming with this keyboard
Which Switch is which?
A guide to mechanical switches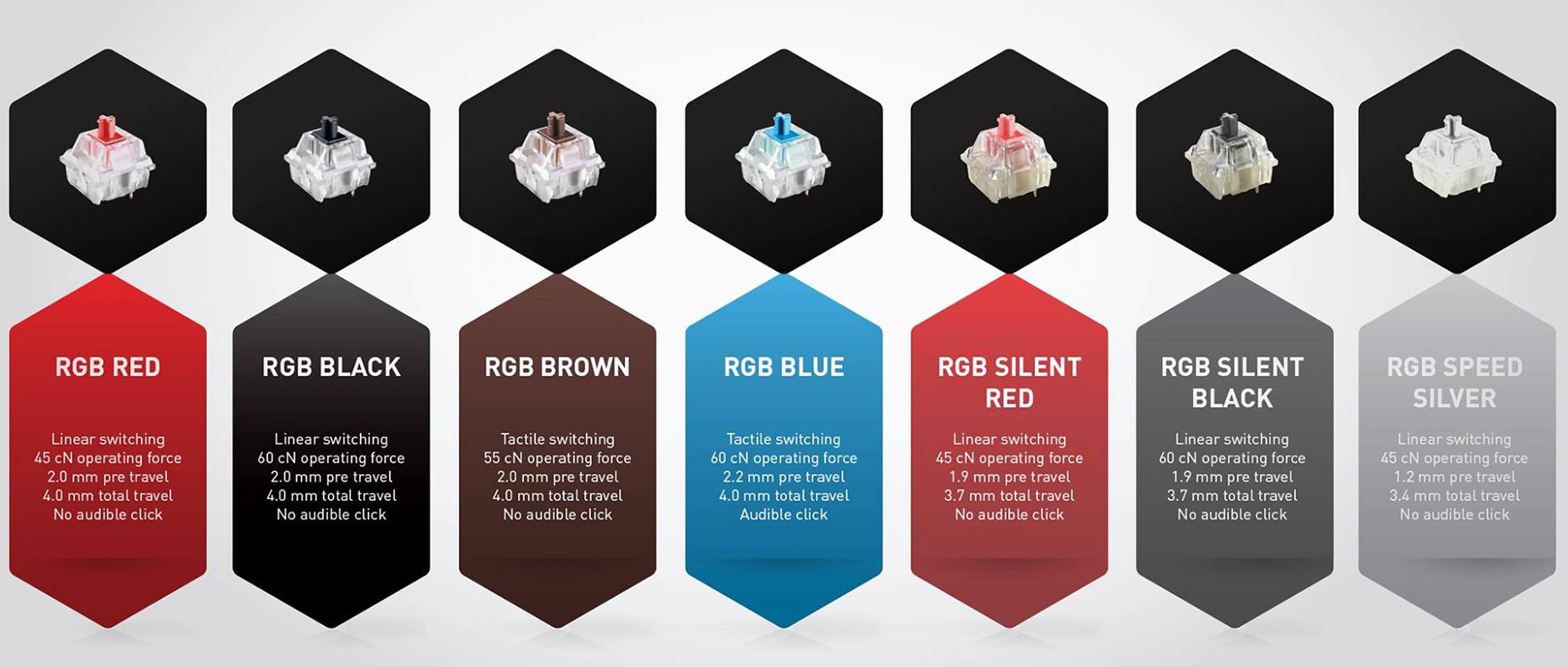 Specifications:
Brand
CHERRY
Country of Origin
Keys: Germany
Colour
Pink with Brown Switch
Product Dimensions
W 430 x H 140 x D 36 cm
Packaged: D 180 x W 460 x H 40 cm
Product Weight
1.025kg
Packaged: 1.31kg
Type
Gaming Keyboard
Model Number
G80-3874HXAEU-9
---
Buy from Topmart. Australian stocked with fast shipping to NSW, QLD, VIC, NT, WA SA, TAS, ACT, Sydney, Brisbane, Melbourne, Darwin, Perth, Adelaide, Hobart, Canberra. Save on CHERRY MX 3.0S RGB Gaming Keyboard (Pink) MX Brown Switch G80-3874HXAEU-9 Code:G80-3874HXAEU-9 124865 and see our other Computers, Tablets & Mobile Phones Keyboards, Speakers, Mouse & Accessories items. Shop save and keep coming back to Topmart.com.au.