LEGO Art Elvis Presley "The King" 31204
Description
Music lovers and Elvis Presley fans, we have the set for you. Create 1 of 3 portraits of the iconic entertainer with this LEGO® Art Elvis Presley "The King" (31204) kit. As you build, you'll also develop other meaningful things. Experience joyful Zen with a calm focus enhanced by each tile you click into place. Display your passion Build 1 of 3 wall decor pictures of Elvis Presley through the years – his start in music, in his prime or later in his career. Can't choose one? Combine 3 sets to make the ultimate memorabilia piece. As you build, scan the QR code and listen to the soundtrack, with nearly 2 hours of content tailor made to really immerse you in the project. Finish the art piece with an Elvis Presley signature tile, ready to display on a wall or shelf. What will you make? Welcome to LEGO sets for adults. A space to relax and build detailed craft projects that pay homage to the worlds of entertainment, motorsports, travel, gaming, sports, science, technology and history.
Share your musical passion with this Elvis Presley wall art
Rock and roll with Elvis Presley. Focus on a meaningful project and create 1 of 3 special LEGO® Art portraits while enjoying the included soundtrack.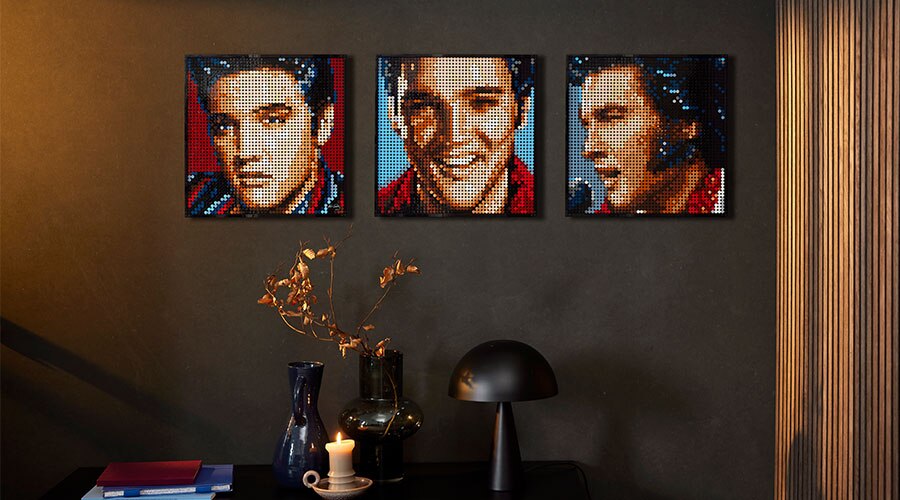 Choose from 3 Elvis era designs
Explore the different faces of an icon as you build this LEGO® Art Elvis Presley "The King" (31204) wall art set, featuring a portrait kit with 3 build options.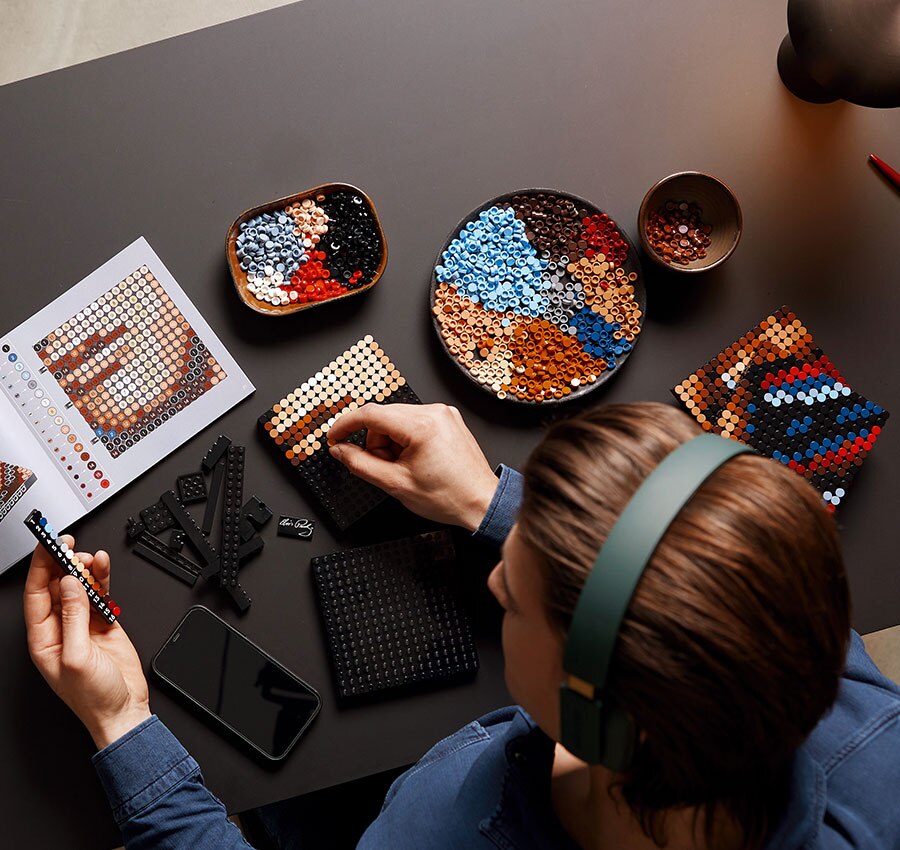 Made for display
This 3,445 piece LEGO® hobby project includes 9 canvas wall decor plates, an Elvis Presley signature tile, 2 hanger elements, a brick separator and brick built frame.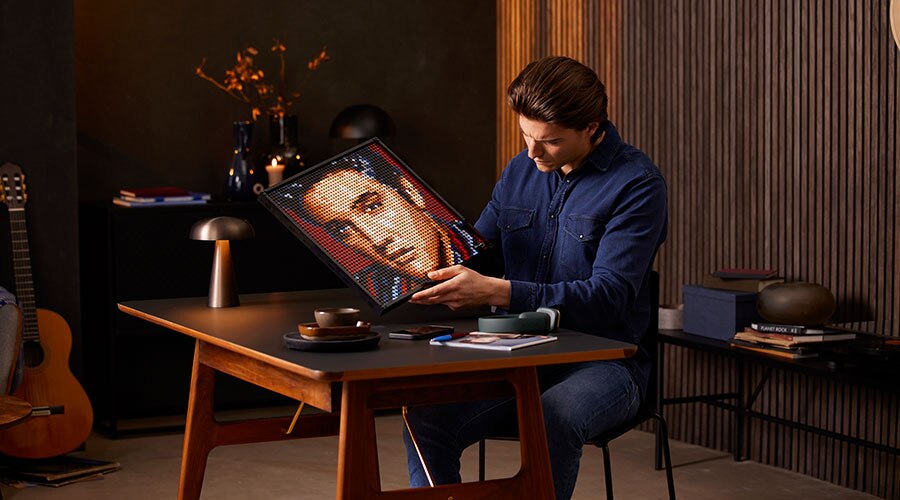 Created for Elvis Presley fans
Pay tribute to the King of Rock & Roll, creating a LEGO® portrait of the entertainer during his rise to fame, in his prime, or later in his career.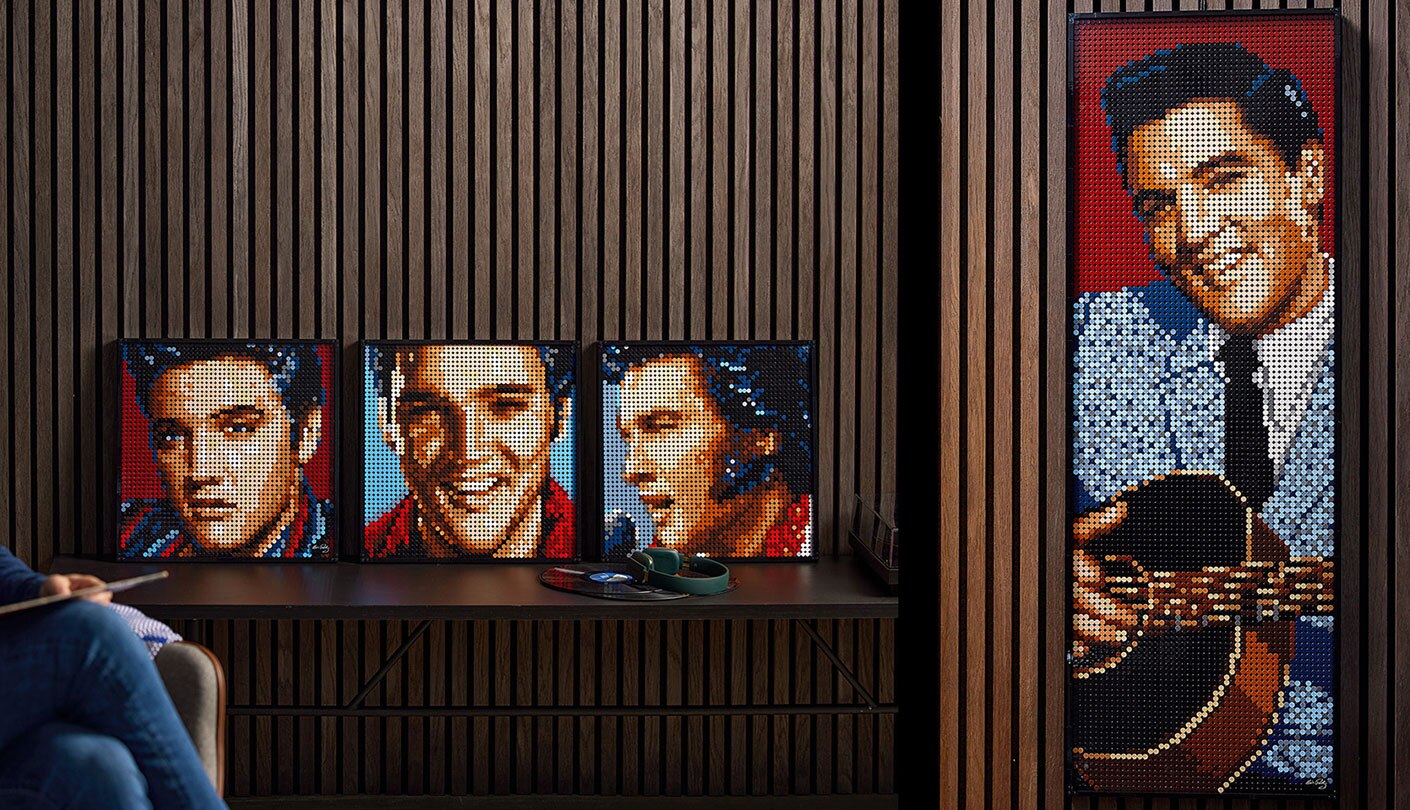 Find your creative zone
Enter a realm of total relaxation and focus with the soundtrack, which immerses you in unexpected details as you produce this art project.
Details
3445 pieces included
Suitable for ages 18+
LEGO Art collection
Measures over 40 cm square
Includes coffee table quality instructions
Meets stringent global safety standards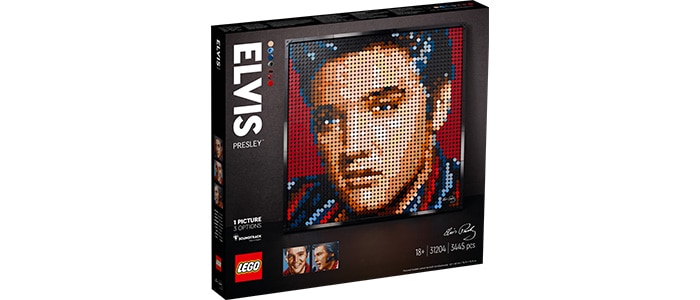 Specifications:
Brand
LEGO
Country of Origin
PRC
Product Dimensions
40 cm2
Packaged: W 17.5 x L 41.9 x H 39.7 cm
Product Weight
Packaged: 1.667kg
Type
LEGO Art
Recommended Age
18 years +
Model Number
31204
---
Buy from Topmart. Australian stocked with fast shipping to NSW, QLD, VIC, NT, WA SA, TAS, ACT, Sydney, Brisbane, Melbourne, Darwin, Perth, Adelaide, Hobart, Canberra. Save on LEGO Art Elvis Presley "The King" 31204 Code:31204 129316 and see our other  items. Shop save and keep coming back to Topmart.com.au.